Ann Weiser Cornell – Focusing in Clinical Practice. The Essence of Change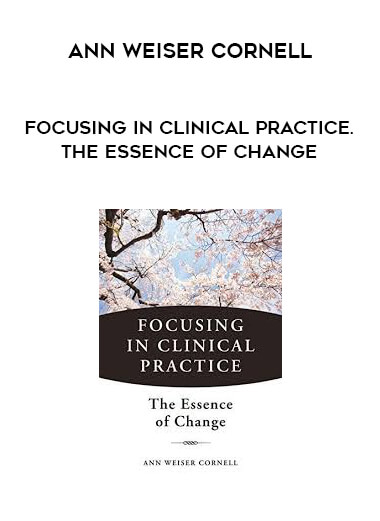 Ann Weiser Cornell – Focusing in Clinical Practice. The Essence of Change
Arichive : Ann Weiser Cornell – Focusing in Clinical Practice. The Essence of Change
A therapy technique for inner awareness and meaningful change.
Focusing is a process that supports therapeutic change and has been linked in more than 50 research studies with successful outcomes in psychotherapy. First developed by pioneering philosopher and psychotherapist Eugene Gendlin, Focusing quietly inspired much of the somatically oriented, mindfulness-based work being done today.
Yet what makes Focusing a truly revolutionary approach to therapeutic change has been little understood — until now.
Integrating mindfulness, body psychotherapy, positive psychology, and more, Focusing—used in conjunction with any therapy type—teaches clients how to contact their inner awareness or "felt sense" to spur real change and therapeutic progress. This practical guide explains the core principles of Focusing, how to incorporate it with other treatment modalities, and how to use it to treat a range of client issues.
Ann Weiser Cornell, who has been teaching Focusing to clinicians for over 30 years, shows step by step how to bring Focusing into any kind of clinical practice. Designed to be immediately useful to working clinicians, this book shows how to help clients get felt senses and nurture them when they appear, how to work with clients who have difficulty feeling in the body, how to support clients who experience dysregulating emotional states, and more. Plentiful examples and vignettes show specifically how the process works at the moment-by-moment level.
What People Are Saying about Focusing in Clinical Practice
"Since Eugene Gendlin's landmark book Focusing, first published in 1978, there has been too little in the way of clinical application of his seminal work. In her thorough, illuminating book, Ann Weiser Cornell fills this need. She clearly outlines the essence of change, explaining how it emerges from the client's relationship with his or her living–sensing body. She demonstrates, step by step, just how these innate transformative moments occur and how we can guide our clients in that direction. It is 'magic' made simple, pure and simple."
— Peter A. Levine, PhD, author of In an Unspoken Voice: How the Body Releases Trauma and Restores Goodness and Waking the Tiger: Healing Trauma; recipient of the USABP Lifetime Achievement Award
Tara Brach
"When caught in emotional suffering, our core question is, 'What will help?' In her wise and compelling new book, Ann Weiser Cornell highlights the centrality of attention to the felt sense, showing through clear case studies how this attentiveness encourages the natural unfolding of a client's wholeness of being. Applicable and enriching for a wide range of therapeutic modalities, this book offers a precious set of insights and tools for healing professionals."
— Tara Brach, PhD, author of Radical Acceptance and True Refuge
"Ann Weiser Cornell and I have been working closely together for thirty years, and she knows as much about Focusing as I do. Ann has a knack for making the complex understandable and the theory of Focusing accessible to all readers. This book will be helpful to anyone who wants to know my philosophical work and better understand how to bring Focusing into clinical practice. I recommend it very strongly."
— Eugene Gendlin, PhD, founder of the Clinical Division Journal Psychotherapy: Theory Research and Practice; author of Focusing and Focusing-Oriented Psychotherapy
Additional Information
List of Chapters:
Introduction: A Doorway in a Moment
Chapter 1: The Essence of Change
Chapter 2: Setting the Stage: Getting Ready to Bring Focusing Into Client Sessions
Chapter 3: Recognizing and Nurturing Felt Senses
Chapter 4: Helping Clients to Get Felt Senses
Chapter 5: Fostering the Client's Strong Self: The Essential Environment for Felt Senses
Chapter 6: Going Deeper: Facilitating the Felt Shift
Chapter 7: Working With More Challenging Types of Clients
Chapter 8: Focusing With Trauma, Addictions, Depression
Chapter 9: Blending Focusing with Different Therapeutic Modalities
Chapter 10: Focusing for the Therapist
A Special Note of Thanks
Ann gives special thanks to Lucinda Hayden for her contribution to this book through her steadfast vision and clear communication on the importance and power of Inner Relationship Focusing. Bless you, dear friend! So glad you are a close partner!
Translations
Spanish
Focusing en la práctica clínica : la esencia del cambio (via Amazon)
Focusing en la práctica clínica : la esencia del cambio (via Casa del Libro)
Are you in Australia? Save money on shipping by buying Focusing in Clinical Practice here.
About the Author
Ann-TeamAnn Weiser Cornell, PhD, is the bestselling author of Focusing in Clinical Practice: The Essence of Change, The Power of Focusing and The Radical Acceptance of Everything. She is internationally recognized as one of the leading innovators and theoreticians of Focusing, for her development with Barbara McGavin of Inner Relationship Focusing, and for her attention to facilitative language. She has worked as a clinician and now teaches Focusing worldwide. She is a Past President of the Association for Humanistic Psychology.