COMMUNE – The Work of Byron Katie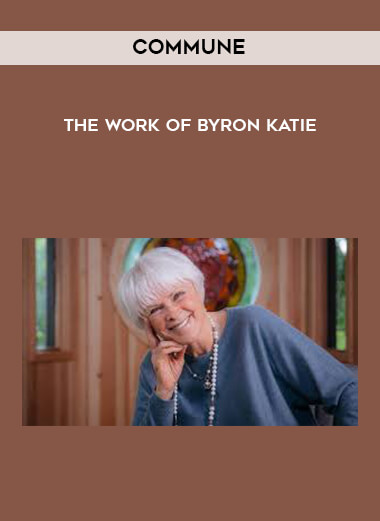 COMMUNE – The Work of Byron Katie
Arichive : COMMUNE – The Work of Byron Katie
Byron Katie became severely depressed while in her thirties. Over a ten-year period, her depression deepened, and for the last two years, Katie was seldom able to leave her bedroom. Then one morning, from the depths of despair, she experienced a life-changing realization. Katie saw that when she believed her thoughts, she suffered; when she didn't believe her thoughts, she didn't suffer. What had been causing her depression was not the world around her, but what she believed about the world around her. In a flash of insight, The Work was born.
Inside The Work of Byron Katie
Course Curriculum
Day 1 – Intro to the Judge-Your-Neighbor Worksheet
Day 2 – My Mother Terrifies Me
Day 3 – I Want to Be Famous
Day 4 – Intro to the One Belief at a Time Worksheet (Part 1)
Day 4  – My Love Life is Dependent on My Weight (Part 2)
Day 5 – My Mom Didn't Fight for Me
Day 6 – I Need More Money
Day 7 – My Husband Doesn't Want Me as a Business Partner
Day 8 – I Don't Trust I'll Find Someone to Create a Life With
Day 9 – He's Trying to Control Me
Day 10 – My Father Chooses Not to Show Up for My Family
Permanent Access
Revisit Byron Katie's course again and again as you need it — like a good reference book.
In-App Viewing
Watch videos offline, create custom playlists, and screencast to your TV. Available for iOS and Android.
More Ways to Learn
Read full daily transcripts, plus access audio-only versions of the lectures.
OWN THIS COURSE GIFT THIS COURSE
Praise for the Work of Byron Katie
Dr. Wayne Dyer
"Byron Katie is one of the truly great and inspiring teachers of our time."
Eckhart Tolle
"Byron Katie's Work . . . acts like a razor-sharp sword that cuts through illusion and enables you to know for yourself the timeless essence of your being."
Elizabeth Gilbert
"Byron Katie has rocked my world and shaken loose my mind more thoroughly than any other spiritual teacher, living or dead."
Tony Robbins
"I think Byron Katie is just a real thing. She's pure and her intent is only to serve—she brings people back to reality so quickly."
Time Magazine
A spiritual innovator for the new millennium.
Los Angeles Times
Her method can cut through years of self-delusion and rationalization.